Spine Surgery and Scoliosis Treatment in Dubai
DEPARTMENT OF SPINE SURGERY  
COMPREHENSIVE GERMAN EXPERTISE IN SPINE SURGERY


On September 1st we opened the new department for Spine Surgery and Scoliosis Treatment in Dubai at HMS Al Garhoud Hospital. We treat all spinal pathologies in adult and pediatrics ages in all spinal sections.
Dr.Basil Al Sharef is the head of the department , German and Swiss Board Certified Orthopedic Spine and Scoliosis Surgeon with international experience more than 15 years +.  The department of spine surgery and scoliosis therapy  specializes in operations of spinal instabilities ( e.g. slipping vertebra, fractures), deformity of the spine (e.g. scoliosis, hyperkyphosis) and compression of the spinal cord and spinal nerves ( e.g. Tumors , narrow spinal canal, disc herniation) as well as degenerative  diseases ( e.g. Osteochondrosis, spinal canal stenosis) of the spine. Additionally we are speciliazed in reconstructive and revision surgery in all spinal sections.
Spine Surgery Services We Provide
Scoliosis
Back pain
Arm pain
Spinal tumor
Thoracic Spine
Scoliosis Correction Surgery
Low Back Pain
Leg Pain
Spinal Fractures
Epidural Injection
Kyphosis
Fusionsurgery
ALIF Surgery
Sciatica
Facettjoint Injection
Kyphosis Correction Surgery
ACDF
TLIF Surgery
Brachialgia
Scheuermann Kyphosis
Corporectomy
XLIF Surgery
Lumbago
Spondylolisthesis
Microdiscectomy
Revision Surgery
Acute pain
osteochondrosis
Microdecompression
Pseudarthrosis
Chronic pain
Disc Herniation
Myelopathy
Spinal Canal Stenosis
Cervical Spine
Neck pain
Radiculopathy
Reconstructive complex Spine Surgery
Lumbar Spine
Back pain
Arm pain
Spinal tumor
Thoracic Spine
Our Expertise Spine Surgery in Dubai:
1. Correction of spinal deformities (scoliosis and hyperkyphosis) in pediatrics and adult ages. Deformities means shape deviations of the spine such as scoliosis (lateral bending), hyperkyphosis (round back formation) can occur in various underlying diseases: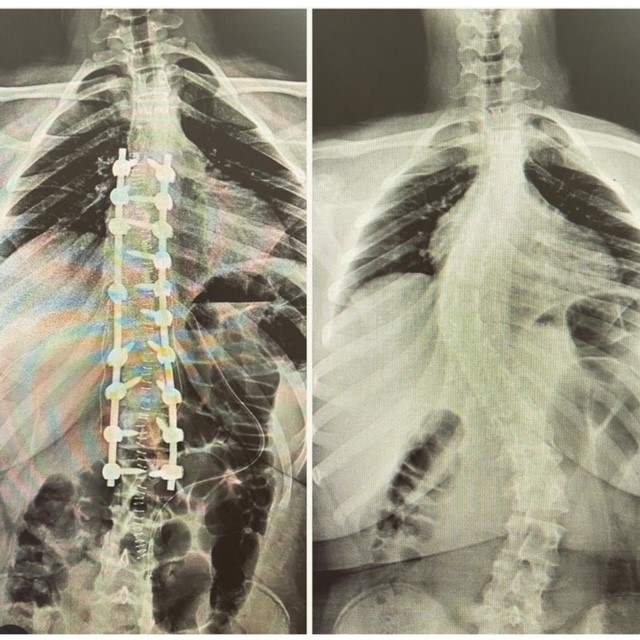 Operative posterior correction spondylodesis T5-L2 of 14 years old patient with idiopathic adolescent scoliosis
©alsharefspine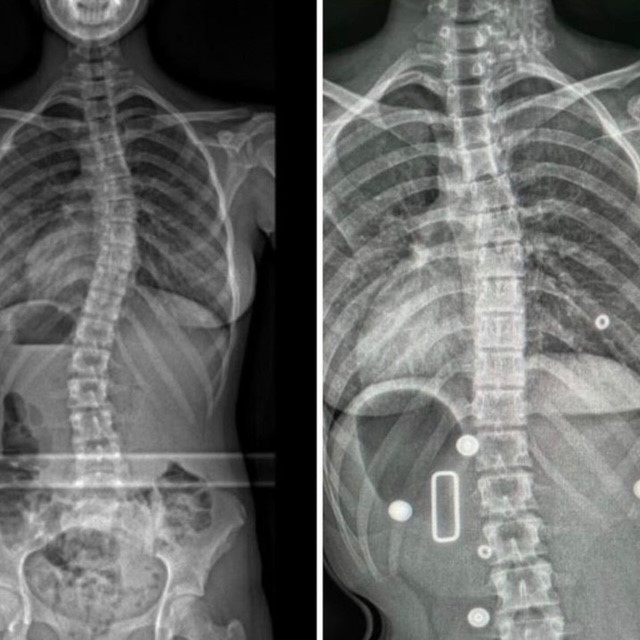 Conservative treated mild idiopathic adolescent scoliosis with cheneau brace of 13 years old patient
@alsharefspine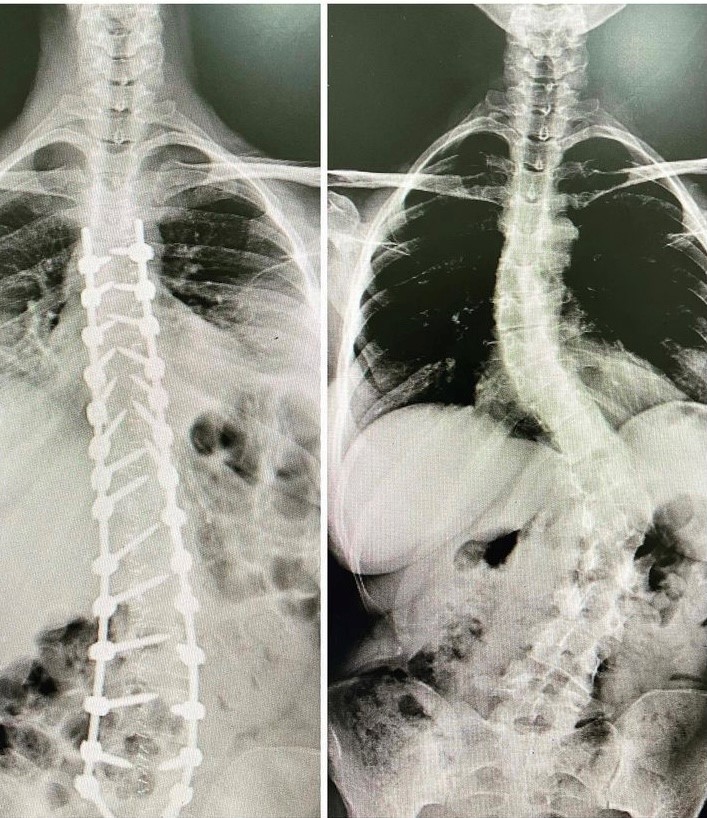 Operative posterior correction spondylodesis T5-S1 of 40 years old patient with adult idiopathic scoliosis
@alsharefspine
2  Neuromuscular scoliosis, there are various neurological underlying diseases with muscle dysbalance (e.g. Spastic syndromes).
3  Congenital scoliosis are various congenital shape disorders of the vertebral bodies (e.g. Half or block vertebrae ).
Hyperkyphosis occurs e.g. In growth disorders of the spine (e.g. Scheuermann's disease), neurological diseases and secondarily also in injuries (post traumatic kyphosis) with all shape deviations, a faulty statics of the spine are present from a certain extent, which can lead to pain or neurological complications if left untreated. 
In old age, the bad statics due to degenerative changes as well as osteoporosis can increase and lead to impairment of the cardiovascular system. Severe changes in shape can also lead to neurological deficits (Paralysis, cross-section).
2. Degenerative  Diseases of the Spine:

In the course of life, the spine undergoes wear and tear (degenerative changes). The structures that are affected by their frequency are intervertebral discs (e.g. Herniated disc), small vertebral joints (e.g. Spondylarthrosis), vertebral bodies (e.g. Osteochondrosis) and ligaments as well as muscles of the spine.
These degenerative changes lead to a pathological movement of the vertebral bodies (e.g. Vertebral slipping), a narrowing of nerve roots or the spinal cord in the nerve canal (Spinal Stenosis) and to a change in shape of the spine (Degenerative Scoliosis).
Various manifestations with back and leg pain at rest as well as with stress and a combination of pain, as well as numbness and paralysis are possible.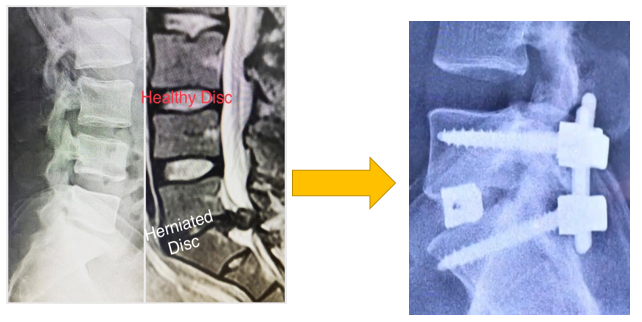 Operative posterior decompression and fusion L5/S1 in TLIF-technique  by recurrent disc herniation and lumbosciatic pain 
©alsharefspine

3. Tumor, infection and fracture of the spine
Tumors of the spine are most often metastases of other tumors that lead to fractures of the vertebral bodies (Pathological Fracture) or narrowing of the nerve structures (Spinal Stenosis). Pain and paralysis can be the result. The same applies to accident-related or osteoporotic fractures of the spine. 
In traumatic fractures, injury to the bone-ligament apparatus leads to the narrowing of nerve structures, instability and changes in the shape of the spine.
Infections of the intervertebral disc (Spondylodiscitis) can lead to destruction of the adjacent vertebral bodies with abscess formation. Here, too, instability occurs possibly in conjunction with compression of nerve structures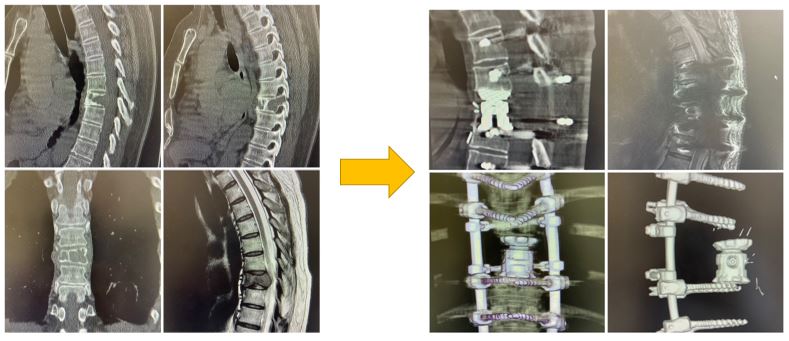 Solitary Metastasis at T8 with pathological fracture (Breast Carcinoma) with compression of spinal cord.
Surgery performed: Postero-antero-spondylectomy T8 (360 grad removal of the whole vertebra) with reconstruction of the alignment and stability. 
©alsharefspine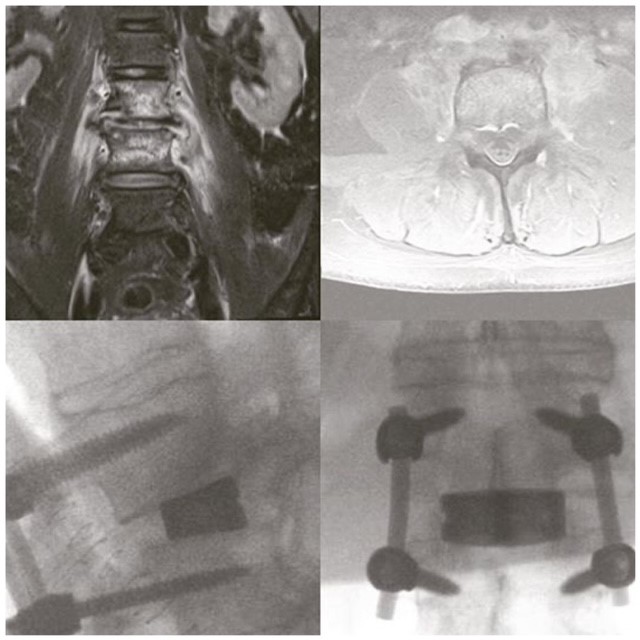 Acute floride  spondylodiscitis L3/4 with psoas-abscess and destabilizing of segment L3/4. 
Surgery performend: Anterior-posterior spodylodesis with resection of the disc and debridment via lumbotomy, cage interposition and posterior transpedicular instrumentation
©alsharefspine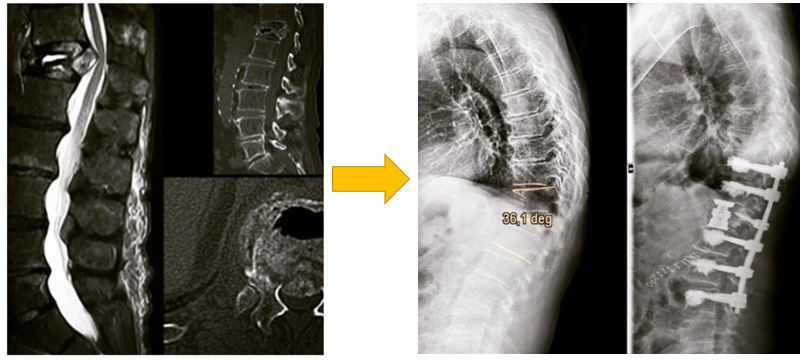 Posttraumatic pathological kyphosis thoracolumbar by bursting fracture T12 with high grade spinal canal stenosis and necrosis of vertebral body T12.
Performed surgery : Cement augmented posterior anterior reconstruction with decompression of spinal cord and vertebral body replacement.
©alsharefspine

4. Spondylolisthesis ( slipping vertebra):

We treat all forms of the slipping vertebra (e.g. Degenerative, Dysplastic , Isthmic) in all slipping grades. Spondylolisthesis( Slipping Vertebra) causes  an segmental instability with back pain and leg pain /neurogene claudication.  The recommended treatment is the stabilisation, reposition and  fusion with decompression of nerveal structures (direct or indirect).

Here 2 different casees of spondylolisthesis , there are different surgical techniques for the fusion , depends on the genesis of the slipping (Degenerative, Lytic), we perfrom state of the Art ALIF, TLIF and XLIF techniques for the intersomatic fusion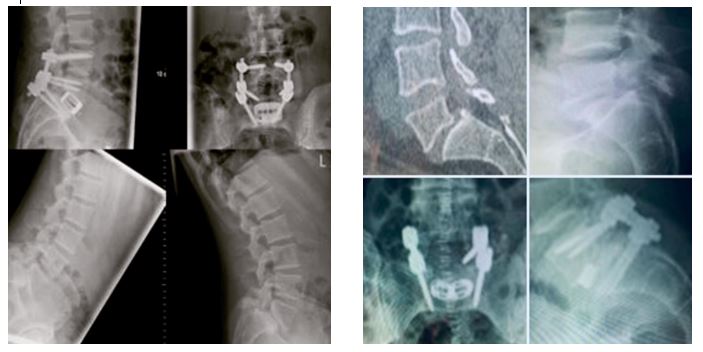 Reposition , Decompression and Fusion in ALIF- ( left)  and TLIF-Technique( right).
©alsharefspine
5. Cervical Spine: We perform all anterior, posterior, combined  or all related surgeries on the cervical spine due to the pathology:

5.1 ACDF : Anterior cervical decompression and fusion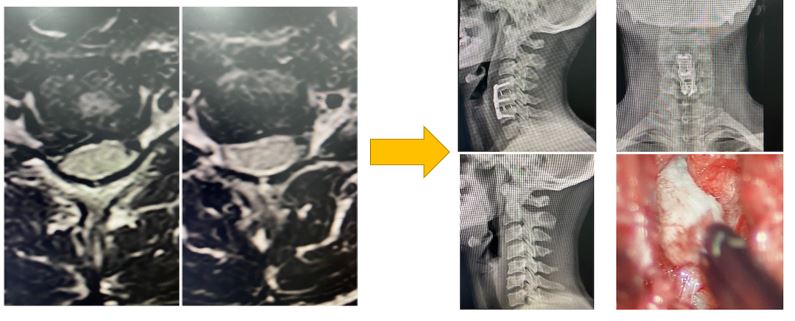 ACDF C4/5 and C5/6 by severe cervicobrachialgia due to disc herniation and spinal canal stenosis 
©alsharefspine

5.2 Posterior cervical decompression and fusion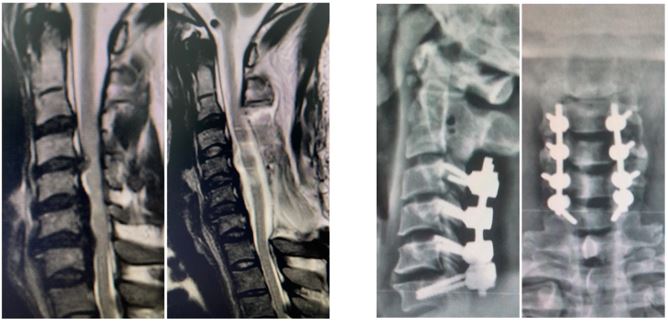 Posterior decompression and fusion C4-C7 by absolute spinal canal stenosis due to
OPLL (Ossified Posterior Longitudinal Ligament).
©alsharefspine

5.3  Reconstructive surgeries by Trauma and Tumor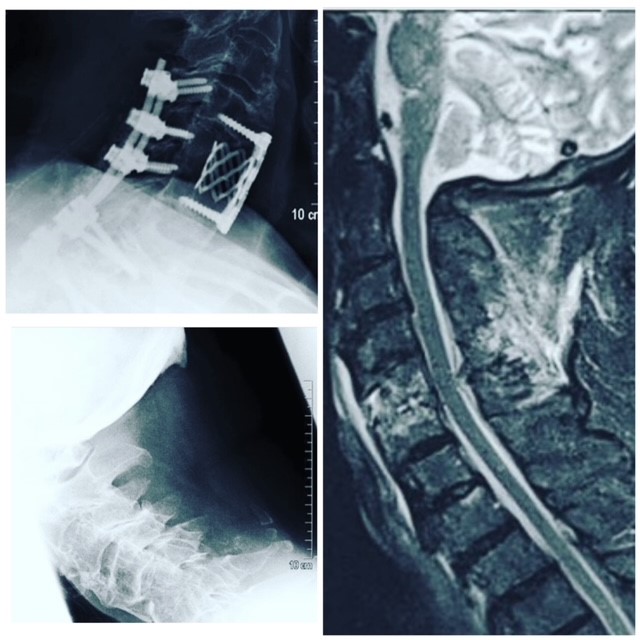 Severe transdiscal b-injuery C5/6 with instability and Kyphosis by Dish-syndrom (Diffuse Idiopathic Senile Hyperostosis).
Surgery performed: Anterior-posterior reconstruction.
©alsharefspine
5.4 Revision surgery by failed previous Neck Surgery 
5.5 Cervical myelopathy and contusio spinlais ( all related surgeries, anterior, posterior and combined surgeries)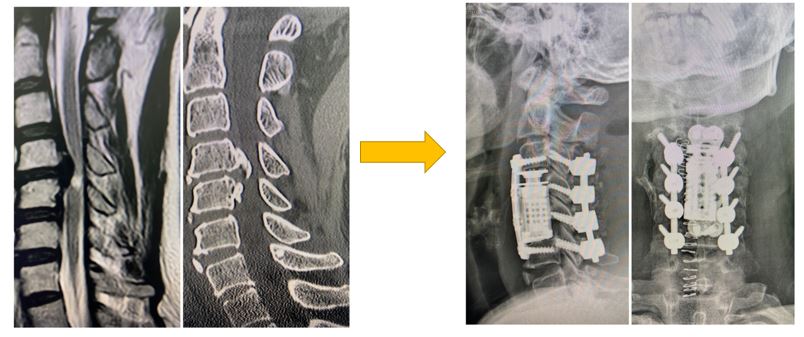 Severe myelopathy due to opll and absolute stenosis C4/5 and C5/6
Procedure performed: Anterior-posterior decompression and reconstruction
©alsharefspine 
6. Reconstructive spine surgery and revision surgery in all spinal sections: by Pseudarthrosis, failed back surgery and adjacent disc disease: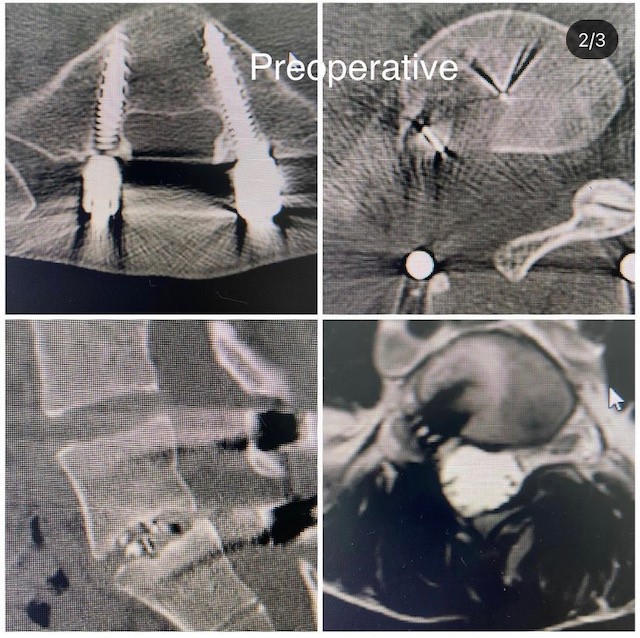 Failed back surgery with pseudarthrosis L5/S1,  loosening of screws and displaced cages 
Patient had chronic severe immobilizing lumbosciatic pain, underwent 2 surgeries before he came to us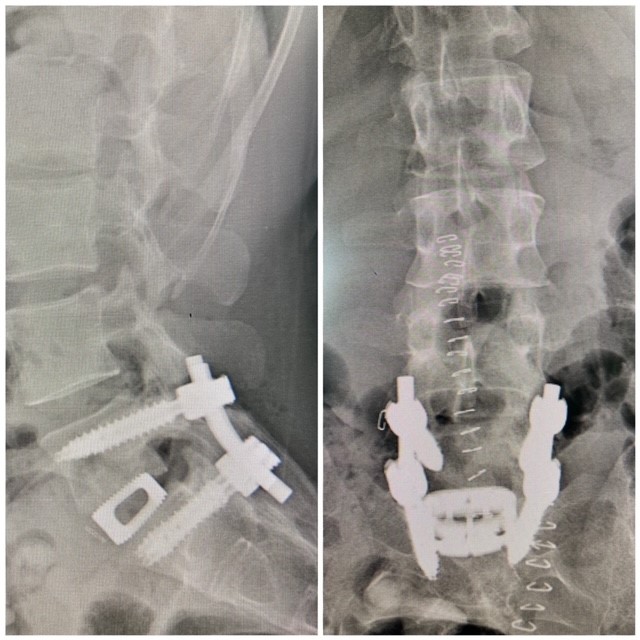 Posterior-anterior-posterior revision L5/S1  with reconstrcution of stability and alignement
©alsharefspine
7. Microsurgery in all spinal sections. (Microdiscectomy and Microdecompression) by disc herniation or spinal canal stenosis

8. Acute pain management and interventional injection therapy (Facet joint injection, Epidural injection and Selective nerve root injection)



OUR EXPERTISE AND SPINE SURGERY SERVICES 
Degenerative Spine Conditions of Thoracic, Lumbar Spine & Cervical Spine including Anterior, posterior and combined Surgeries (Fusion surgeries in all spinal sections)

Cervical Myelopathy and Contusio Spinalis (all related Surgeries anterior, posterior and combined Surgeries

Spinal Deformities (Adults) including Adult Degenerative Scoliosis Corrections Surgery, Spondylolisthesis Vera & Post-traumatic Kyphosis

Spinal Deformities (Pediatrics) including Spondylolisthesis Vera & Scoliosis/Kyphosis

Revision Surgery in all Spinal sections by Pseudarthrosis and Failed back surgeries

Spinal Traumatology of the cervical, Thoracic and Lumbar spine including vertebral body replacement

Spinal Tumor Surgery including Tumor debulking & stabilization in all spinal sections and Corporectomy with vertebral Body Replacement

Microsurgery (Microdiscectomy, Microdecompression)

Acute Pain management ( Interventional pain Therapy)