Best Pediatric Hospital in Dubai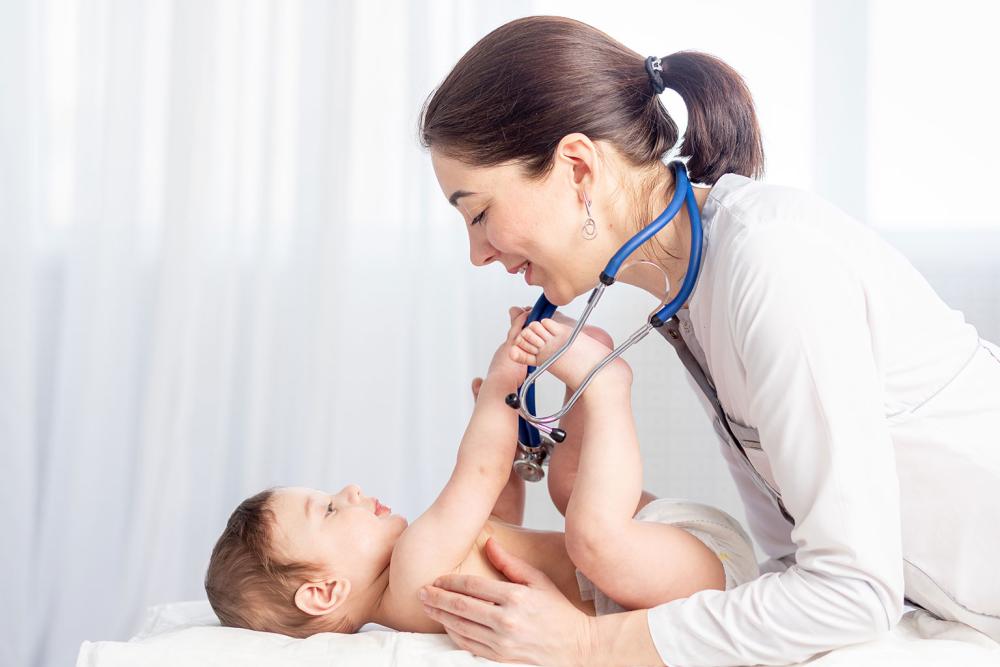 Pediatrics
Pediatrics is the branch of medicine that deals with the health and medical care of babies, children, and adolescents from birth to the age of eighteen.
A paediatrician is a doctor who provides medical care to children who are acutely or chronically unwell, as well as preventative health services to children who are healthy. In both sickness and health, a paediatrician is responsible for the physical, mental, and emotional well-being of the children in their care.
Pediatrics and Neonatology Department
The Pediatrics & Neonatology Department has a team of top certified, well trained and highly experienced Pediatricians and Neonatologists assisted by specialty nursing staff with top edge equipment and medical devices, in addition, to a piece of art waiting for areas and kids playing area.
Our Neonatal Intensive Care Unit provides exceptional care to premature as well as full-term newborns. Technical support includes the latest equipment like multi-parameter monitors, incubators, high frequency, and conventional ventilatorssurfactant therapy and phototherapy. Our dedicated team of pediatricians offers preventive and primary care such as immunizations and well-baby visits and growth follow up. Our Best Pediatric Hospital in Dubai staff is also able to provide diagnosis and treatment of acute as well as a chronic illness in children of all ages while providing anticipatory guidance to their parents. The services provided include well-baby examinations and routine screening, immunizations, lactation support, medical checkups at school, ongoing care for chronic illnesses such as asthma, management of hyperactivity in children, eczema, and feeding and weight problems, care for high-risk infants, GPH Best Pediatric Hospital in Dubai starts to provide a new pediatric service for the Diabetic children.
Paediatric Endocrinology
The treatment of endocrine gland diseases in children is known as paediatric endocrinology. Children with endocrine disorders, unlike adults, require specialized care from paediatric endocrinologists since their problems vary from physical and sexual development to diabetes and other hormonal and metabolic diseases.
Pediatric Neurology
A child neurologist, often known as a pediatric neurologist, is a specialist who specializes in treating children with nervous system disorders. The brain, spine, nerves, or muscles can all be the source of nervous system problems. Seizures, migraines, and developmental delays are all possible outcomes.
Paediatric Orthopedics
Paediatric orthopaedics is a specialized service that provides surgical and non-surgical therapy for children with musculoskeletal disorders that are congenital, developmental, or acquired. Our pediatric orthopedic surgeons, therapists, and nurses specialize in the treatment of congenital, developmental, and acquired musculoskeletal problems in babies and children. Children are physically, cognitively, and emotionally developing, and they require care that not only meets their immediate needs but also safeguards their long-term health and well-being.
Paediatric Cardiology
Paediatric cardiologists are physicians who specialize in the diagnosis and treatment of cardiac (heart) problems in children. Patients are seen antenatally (before birth), during childhood, and into maturity.
The Paediatric Cardiology department is a subspecialty that specializes in the diagnosis, management, and medication or surgical treatment of cardiac problems in infants, children, and adolescents. We offer electrocardiograms, transthoracic and transesophageal echocardiography, cardiac CT scans, cardiac MRIs, diagnostic cardiac catheterization, and angiography, among other imaging and diagnostic procedures.
At HMS Al Garhoud Hospital, our experienced and caring pediatricians provide a wide range of Pediatric services and facilities to meet the needs of newborns, infants, children and adolescents
We diagnose and treat children with the following conditions:
Autism and ADHD
Behavioural / conduct disorders
Brain tumor
Cerebral palsy
CNS infections (meningoencephalitis and its sequlae)
CNS malfomation
Developmental delay
Dyslexia, dyspraxia
Epilepsy
Facial payalysis (bells palsy)
Headaches and migraines
Learning disability
Microcephaly(small head), macrocephaly (large head) and hydrocephalous
Movement disorder service/ tics management
Neurometabolic & neurogenetic conditions
Neuromuscular disorders
Sleep disorders
Speech delay
Squint, nystagmus and torticolis
Stroke


---
Useful info and health tips
Signs of Dehydration for Baby
If your baby is vomiting (not just spitting up small amounts of milk) or has diarrhea, you should watch carefully for these signs that he might be dehydrated:
• Fewer than six wet diapers in a day
• Dry mouth and eyes (no tears when she cries)
• Skin seems dry and slack (doesn't bounce back when gently pressed)
• Either fussiness or lethargy
• Sunken eyes
• Sunken soft spots on her head
• Cold and/or splotchy-looking hands and feet

An asthma tip: Keep a clean house
Almost every asthmatic child has a strong reaction to dust, and simply keeping household dust to a minimum can immediately improve your child's asthma. While keeping your house clean, it is also worth considering removing anything that can easily collect dust – carpet is much harder to keep dust-free than floorboards or tiles; piles of soft toys and knick-knacks are great dust collectors; seasonal clothing (jumpers, scarves, jackets) can become very dusty in the off-season. Using a quality vacuum cleaner with a HEPA filter will help, as will ensuring all family members take their shoes off at the front door to leave dust and dirt outside where it belongs. Dusting regularly with microfiber cloths which you throw in the washing machine is probably a better idea than spraying plenty of cleaning products around the house and adding to the respiratory loads inside the house.